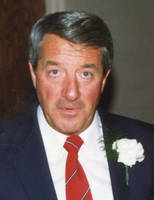 Roger M. Cardin
Roger Marcel Cardin, 86, of Halfmoon, passed peacefully at Albany Medical Center surrounded by his loving family on Thursday, November 29, 2018. Roger was born in Cohoes to Eli and Parmelia Cardin on July 14, 1932. He married his sweetheart Elizabeth "Betty" Martin in September of 1951 and they were lovingly married for 67 years.
Raised on the family farm with his younger brother Raymond, he attended St. Joseph's Catholic School and graduated from Cohoes High School. Throughout his life, he provided for his family with jobs including; working as a farmer, milker, haying, pinsetter, welder, school bus and truck driver. He had an incredible work ethic and oftentimes worked multiple jobs to support his family, when he wasn't sneaking in naps on the couch. His career at Mobil Oil spanned 40 years and three million miles without an accident.
He was a communicant of St Mary's Church, Crescent. Most Sundays after Mass he played Pinochle with his father and brother. He liked to bowl and loved golfing with his friends in both New York and Florida. Summer days you could find him lying out by the pool, listening to the oldies and working on his tan. Although often quiet, he had a dry sense of humor and loved to joke with anyone dropping by for 3 o'clock coffee hour with his favorite Oreos. He had a movie-star smile, Hollywood hair, a spirited laugh and had a particular soft spot for all of the family pets that came over the years.
Roger and Betty had the kind of relationship we all hope for. They spent countless hours working in their garden, holding hands on the swing, and walking Plant Road. During those walks, their neighbors always looked forward to their morning hellos and friendly banter. Their home was the center of our family's universe providing us with warm meals, countless memories, and overwhelming joy.
He will be forever loved and cherished by Betty and his children, David Roger (Mary), Nancy Elizabeth (Gary) Mark Jeffrey (Patricia), Linda Jean; grandchildren, Briana, Lauren, Alex, Ryan, Nicholas, Andrew, Casey, Joshua, Austin; and great-grandchildren, Gabriel, Genevieve, Nolan, Kellan, Violet, Nora.
In lieu of flowers, the family requests donations in memory of Roger Marcel Cardin at: Fund for Albany Med at Albany Medical Center, 43 New Scotland Avenue, Mail Code 119, Albany NY 12208.
Funeral will be held on Monday, December 3, 2018 at 12:00 noon at the Gordon C. Emerick Funeral Home 1550 Rt.9 Clifton Park, NY 12065. Calling hours to which relatives and friends are invited to attend will be on Saturday (this morning) December 1, 2018 from 9-11am at the funeral home. Burial will be in St. Joseph's Cemetery, Waterford, New York.