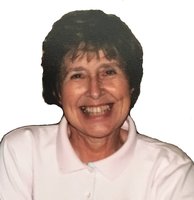 Margaret T. Rem
Margaret T Rem (87) passed peacefully on May 8, 2018. Margaret was the beloved daughter of the late Max and Antoinette Thibaudeau. She is survived by her loving husband of 69 years Alexander F Rem Jr. and 3 children Timothy Rem(Donna), Nancy O'Neil(Rich) and Daniel Rem(Tina), her grandchildren Steven Rem, Jennifer Rem, Rebecca Rem, Alex Sokol, Joe Sokol(Rebecca), Max Sokol, Ben Sokol, Matt Rem(Jennie), Mike(Kate), Reagan Rem, Christopher Rem(Rachael), Kevin(Angie) and 3 great grandchildren.
She was predeceased by her son Christopher(Christine) and grandson Timothy Rem.
She also leaves behind her loving brother John Thibaudeau and several cousins, nieces and nephews and step children Josh Bills and Joe Bills. Marge was a loving wife, mother and grandmother, known as Dolly to her family and friends. She loved spending time with family, baking and sharing her treats, reading and walking the beach in Florida as often as she could. She will be remembered for her feisty humor, great singing voice and most of all her love of her family.
Calling hours will be Thursday May 10, 2018 at Gordon C. Emerick Funeral Home, 1550 Rt 9 Clifton Park from 4-7pm. Mass of Christian Burial will be Friday May 11, 2018 at 10:00 a.m. at St. Edward the Confessor Church, 569 Clifton Park Center Road, Clifton Park.
Burial will be at Saratoga National Cemetery at the convenience of the family.
In Lieu of Flowers donations would be appreciated to Clifton Park Halfmoon EMS station 1 15 Crossing Blvd. Clifton Park, NY 12065 or Community Hospice of Saratoga 179 Lawrence Street Saratoga Springs NY 12866.
To view a complete obituary please visit gordoncemerickfuneralhome.com.
Funeral arrangements have been entrusted by the family to the Gordon C. Emerick Funeral Home 150 Route 9 Clifton Park, New York 12065.