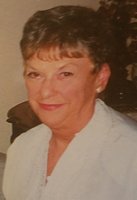 Jeanne Marie Noble Clifford
Jeanne Marie Clifford, formerly of 452 Third Avenue in Troy, passed away on Friday, April 6, 2018 at the Teresian House, where she resided. She was the beloved wife of the late Gerard (Jerry) V. Clifford, daughter of the late S. Whitford Noble and Mary (Mae) Sheehan Noble and sister of the late Francis Donald Noble.
She was the devoted mother of Michael Gerard Clifford and his wife, Joan of East Greenbush, N.Y., David Vincent Clifford and his wife, Nicky of New Canaan, C.T. and Timothy Stephen Clifford and his wife, Lisa of Slingerlands, N.Y. She was the proud grandmother of Harrison Mark Clifford, Casey Elizabeth Clifford, Gregory John Clifford, Christian Gerard Clifford and John Anthony Clifford. Caring Aunt to S. Dale Noble and Godmother to Elizabeth (Beth) Keilen and Maria De Poalo Woodworth. Jeanne was life-long friends with Pearl Marion Donahue De Poalo and Joan Doran.
Jeanne met Jerry when he was a young New York State Police Trooper and they married after a six-month courtship in 1958. They celebrated 40 years of marriage before Jerry's passing on December 26, 1998.
Jeanne was a graduate of Catholic Central High School and began her secretarial career at Manufacturer's National Bank in the role of secretary to the Vice President of Business Development. She attended the American Institute of Banking. After seven years of banking, she was hired as the administrative secretary to the plant manager of the Ford Motor Company in Green Island. She resigned after ten years to become a dedicated stay at home mom to her three sons. Her time was often spent being a room mother, cub scout leader and St. Augustine's Mother's Club member. She was a lifelong member of the Mothers' Association of Albany Academy and was a former member of Van Schaick Country Club where she was secretary of the women's golf league.
When her sons entered college, she returned to work for what is now the Office for People with Developmental Disabilities where she spent 12 years. She was also a registered real estate agent.
Jeanne and Jerry enjoyed spending summers in Bolton Landing and winters in Naples, Florida with friends. She was an avid reader of history and non-fiction. She made many friends during her time at the Teresian House and could be found volunteering in the store and taking part in many of the activities.
A Mass of Christian Burial will be celebrated on Wednesday, April 11, 2018 at 9:30 a.m. at St. Augustine's Church, Lansingburgh. Calling Hours will be held on Tuesday, April 10, 2018 from 4-7 p.m.at the John J. Sanvidge Funeral Home, Inc., 565 Fourth Avenue, Lansingburgh, New York 12182. Burial will be in St. John's Cemetery, Troy, New York.
In lieu of flowers, memorial contributions may be made in Jeanne's memory to the Teresian House Foundation, 200 Washington Avenue Extension, Albany, New York 12203.
The family would like to express their deepest gratitude to the dedicated staff of the Teresian House, especially Kelli Hawver, Beatrice Essien and the Carmelite Sisters.
Please select green tab to leave a condolence