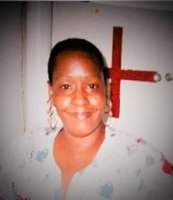 Helene C. Harris
Helene C. Harris, 63, formerly of Troy, entered into eternal life on Saturday, December 2, 2017, in her Menands home.
Born in Brooklyn, NY on February 4, 1954, she was the fourth child born to the late Andrew "Stoney" Harris and Ethel Mae Harris. She was educated in New York City School district. She worked at Belmont Race Track and Brooklyn Developmental Center before relocating to Troy, NY in 1992. Once she moved to Troy she started working in the health care field. She was employed at Woodland Village, The Center for Disabled and was last employed at Albany Medical Center, where she remained until her disability.
Helene enjoyed spending time with family and friends. She loved watching TV and enjoyed old movies and shows like, Gone With The Wind, The Ten Commandments and Bonanza. She loved listening to music and The Jackson 5 and Luther Vandross were some of her favorites. She loved sending early morning text messages to her family making sure they knew she was up thinking of them.
Left to cherish her memory are her three sons, Anthony K. Harris, Michael J. (Laushonda)Harris and Jason A. Harris, seven grandchildren, Totia Harris, I'yonne Harris, Iya Harris, Raiquis Harris, Rayquan Harris, Destiny Harris, and Riqiya Harris, three great grandchildren, Jahmel Thomas Jr., Iya Harris and Ava Harris, six siblings, Rita Harris, Debra Harris-O'Connell, Andrea Harris, Brigitte Norwood, Angelo Harris and Dawn Harris. She is also survived by a host of other family and friends including a daughter- in- law Pamela Harris and an acquaintance Makeba Martin.
Relatives and friends are invited to calling hours from 10:00 a.m. to 12 Noon on Saturday, December 9, 2017 at Bethel Baptist Church, 2165 Fifth Avenue, Troy, New York 12180 and to the Home Going Service celebrating Helene's life which will begin at Noon in Church.
Funeral arrangements have been entrusted by the family to the John J. Sanvidge Funeral Home, Inc., 565 Fourth Avenue, Troy New York 12182. Phone (518) 235-0952
Please express your condolences by using the green "Add Condolence" tab below.