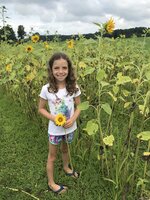 Nola Browne Marotta
Nola Browne Marotta, died on July 6th, 2022, after a two and three quarters of a year struggle with Epithelioid Sarcoma. It is a rare cancer, even more so, in children.
Nola was born in Albany and is the beloved daughter of Michele Molea and Ted Marotta, loving, little sister of Neve Marotta, cherished granddaughter of Theodore W. And Judy (Eckert) Marotta, Jr. and of Virginia (Schwarz) and Richard Molea. Nola is also survived by aunts, uncles, cousins and many friends.
Nola recently completed Fifth Grade in the Cambridge Central School District Elementary School.
She loved art, music, animals, dancing, horse riding, swimming, basketball, The Atlanta Braves, Minecraft, pastel rainbows and everything else under the sun. Wolves were her spirit animal and her favorite color was blue. She had an infectious laugh and a dimpled smile that warmed the entire room. She adored her big sister and was always thinking of her.
Nola's family would like to thank everyone in the Cambridge Community and beyond, who supported them during Nola's journey and continue to do so. We are eternally grateful to all of her buddies who did everything to ensure that she maintained friendships and safe connections, despite being caught up in the pandemic. Additionally, much gratitude for the staff at Albany Medical Center. Nola dreamed of being a Child Life Specialist, inspired by Marybeth Nichols, CCLS, at The Melodies Center for Childhood Cancer and Blood Disorders. Marybeth was always a life raft in the storm for us. Nola hoped that she could one day do the same for other kids.
Those desiring may make memorial contributions at https://my.beagoodcookie.org/fundraiser/3999915
You can also make a donation to support the Child Life Program, where Nola was treated, by using the address below:
The Melodies Center at Albany Medical Center
Child Life Program
43 New Scotland Avenue
Mail Code 24
Albany, New York 12208
518-262-4679