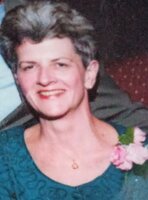 Sarah Suzanne Muthig
Sarah Suzanne Muthig passed away peacefully on Friday, October 8th, 2021 at the Home of the Good Shepherd in Malta, NY. Born in Utica, she was youngest of four children of the late James and Margaret (O'Toole) Feeney. Sarah (Sally) married the love of her life, William (Bill), in 1958 moving from Utica to Jonesville in 1965. Sarah and William settled in the Country Knolls section of Jonesville where they raised their three children, Linda, Karen and James (Jim). After raising her three children Sarah entered the workforce as a retail sales associate working for 35 year for the Little Folks Clothes Store, The Carl Company and JC Penny (1986 to 2015). Besides her genuine interest in working in retail sales Sally loved to be out and about spending time with long lasting friendships made with co-workers, her sisters and neighbors. Sally was always active in her Catholic faith volunteering for various ministries while a parishioner of Corpus Christi Church. In her later years Sally cared for as best she could her husband Bill who passed away in 2015.
Sarah is predeceased by her sister Anne and brother James, survived by her children, Linda (Greg) Thompson and Karen (William) Muthig George, and James (Mary) Muthig; her cherished great grandchildren Kendall and Cameron, grandchildren, Bryan (Staci) Marra, Stephen (Felicia) Marra, Jamie Rubadou (Nathan), Maggie Schmidt, Benjamin Muthig, Cara Muthig, Asa Muthig and Mya Suzanne Muthig. She is also survived by her sister, Margaret Muthig (married to John (Jack) Muthig, brother of William) and several nieces, nephews, and dear friends. Those wishing to remember Sarah in a special way may make memorial contributions in her name to Community Hospice of Saratoga, 179 Lawrence St. Saratoga Springs, NY 12866.
Calling hours for Sarah will be held Tuesday, October 12th from 10:30 to 11:30 a.m. at the Corpus Christi Church followed directly by a mass. Burial will be in Jonesville Cemetery at a later date.
Funeral arrangements have been entrusted by the family to the Gordon C. Emerick Funeral Home, 1550 Route 9, Clifton Park, NY. Flowers should be sent directly to Corpus Christi Church located on 2001 Route 9 in Round Lake, NY.