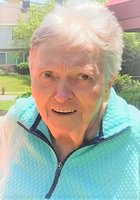 Kathleen A. "Kay Kay" Hickey
Kathleen A. "Kay Kay" Hickey, 83, of Troy, peacefully entered into eternal life on Thursday, February 18, 2021 at the Van Rensselaer Manor.
Born in Troy, she was the daughter of the late Harold V. and Margaret M. O'Neill Hickey and was a graduate of Catholic Central High School, Class of 1954.
Kathleen retired from the New York State Department of Labor in Albany after a career of 25 years.
Kathleen's greatest joy was time spent with her nieces and nephews as children. Her love for Christmas and preparing for everyone to visit was one of her favorite times. Kathleen loved to travel over the years, visiting Cuba, Ireland and several bus trips to Canada.
Kathleen was a communicant of St. Francis de Sales & St. Anthony's Church in Troy.
Kathleen is the sister of John M. "Jack" Hickey and Maureen E. "Reene" Coffey, both of Troy, Aunt Kay Kay of Michael (Dana) Hickey of Clifton Park, Deb Hickey of Providence, RI, Kevin (Karen) Hickey of Saratoga Springs, Lynn Coffey of Raquette Lake and Sean (Lynn) Coffey of Averill Park, also survived by her great nieces and nephews and cousins.
Kathleen was predeceased by her sister Margaret M. "Marge" Gallagher and brother-in-laws; Jimmy Coffey and George Gallagher.
Relatives and friends are invited to visitation on Saturday, February 27, 2021 from 9:30 a.m. to 10:30 a.m. at the John J. Sanvidge Funeral Home, Inc. 565 Fourth Avenue (Corner of 115th Street in Lansingburgh) Troy, NY 12182 and to her Mass of Christian Burial which will be celebrated that morning at 11:00 a.m. at St. Augustine's Church in Lansingburgh will be live streamed at https://www.youtube.com/c/StAugustinesParishTroyNY for those not able to attend.
Interment will then follow in St. Mary's Cemetery, Troy.
Attendees are required to wear a facial covering, observe social distancing and adhere to capacity limits.
Kathleen's family would like to extend their most sincere Thank You to the staff of the A3 Unit at the Van Rensselaer Manor for their loving and compassionate care during her time there.
Please feel free to offer on-line Condolences using the tab on this website.